About the New Mexico Dulcimer Association
The New Mexico Dulcimer Association is an all-volunteer run, certified 501(c)3 non-profit arts organization founded in 2010. The Association's mission is to:
Educate the public in the appreciation of Mountain and Hammered Dulcimers and other folk instruments.
Provide educational activities related to playing the Mountain and Hammered Dulcimers and other folk instruments.
Produce the annual New Mexico Dulcimer Festival as an educational, volunteer-run event.
How We Got Here - Reflections from the Director

Mountain dulcimer and me. I've often teased, especially when visiting areas of the country teeming with dulcimer players, that New Mexico is far from the dulcimer capitol of the world. While the Southwest has small pockets of players, there are very few festivals. My husband, Scott, is a native of Albuquerque with family ties to Missouri string band music. I'm an Army brat transplanted in my youth from Germany to New Mexico. While I missed the experience, my older siblings lived on the farm in Arkansas where my family goes back generations. For whatever reasons, our families' music traditions included fiddles, guitars, mandolins, but not dulcimers. My sister was given a mountain dulcimer one year. It ended up as a wall decoration. Sound familiar? Because I had only a few experiences hearing the mountain dulcimer, in my ignorance, I didn't view it as a "serious" musical instrument. In August of 2005, Scott bought me a quality mountain dulcimer for a wedding anniversary. The following month we made it out to Oklahoma for our first dulcimer festival (Russell Cook's last Sawdust Festival). This was my first experience seeing nationally acclaimed mountain dulcimer players, and I was blown away by the demonstrated skills, and the beauty and versatility of the instrument. I was hooked! Here in Albuquerque, I viewed one of my friends, Michael Carlson, as the Pied Piper of mountain dulcimer in New Mexico. He encouraged so many people, young and old, to start playing, and was a passionate promoter of the instrument. He was teaching a mountain dulcimer group class in 2006 when he had a recurrence of cancer. Knowing my teaching experience and love for music, he asked me if I would finish the class for him. (What a baptism by fire, being an inexperienced dulcimer player myself at the time.) Michael passed away before I completed his class.

Thus began my journey falling in love with the mountain dulcimer. I have envied those of you in areas where teachers abound, where there is such a rich tradition of dulcimer music. Since we don't have a lot of advanced instructors locally, we've started driving to festivals: Steve Eulberg's Colorado festival in February, the Mountain View, Arkansas Dulcimer Jamboree in April, and the Glen Rose, Texas festival in May. I know some of you have been to many more festivals than I have. Dulcimer festivals have been a wonderful experience for us.

Why are they both called "dulcimers"? Hammered dulcimer: My first experience with hammered dulcimer was watching one of my college friends play a funny many-stringed instrument that she struck with sticks. As she was a new player, there wasn't anything inspiring or compelling about the instrument, and the memory got filed away, forgotten for years. I started playing Celtic harp in 2001, with Scott often opposite me on 12-string guitar because we loved how the bright and percussive steel string guitar contrasted with the harp's mellowness. Does this sound like an introduction to hammered dulcimer in any way? We were deep into listening to and playing Celtic music, and on recordings we often heard harp paired with something called a hammered dulcimer - for the very same reasons we liked 12-string guitar with harp. We had no idea what a hammered dulcimer was, trying to imagine what it must look like or how it was played to produced such beautiful sounds. In 2003, we attended a concert by Willson & McKee who were passing through Albuquerque, and Kim McKee played some tunes on her hammered dulcimer. From recordings, we already knew we loved the sound. Upon seeing it live, we had to find out more! Scott had one built for him before the year's end.

Similar to many other dulcimer players in the Southwest, when we play out, we're often approached by folks who are seeing these instruments for the first time, or they have stories for us where they've seen dulcimers in other parts of the country. We take great joy in demonstrating and explaining the instruments to anyone that is interested.

So, why did I say all that? The conclusion is that New Mexico needs a dulcimer festival - to introduce the public to these rich instruments, and to be a resource to other players who, like us, find that the learning and camaraderie opportunities are extremely limited.

Dreaming of a festival: The New Mexico Dulcimer Festival was the dream of a number of people: Debra Fortess (owner of Apple Mountain Music), Debbie Velasquez, Molly Caskey, Scott and me (all of us from Albuquerque), Jonathan Dowell from Los Alamos, New Mexico, and Cheryl James from Santa Fe, New Mexico. On a March day in 2008, we met for lunch at Annie's Soup Kitchen in Albuquerque to kick around the idea of starting a dulcimer festival in Albuquerque. Would others be willing to drive as far as some of us do to attend a festival? So many details to address, so many issues to overcome. A lot of time passed before we just decided to jump in and do it!
Our First Festival (2010)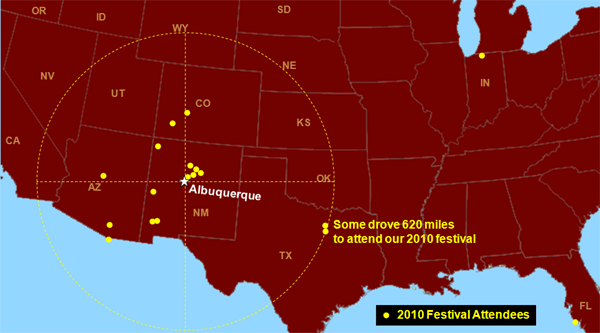 Distances attendees drove to come to our first New Mexico Dulcimer Festival (2010)

(The Indiana and Florida folks were in town already)
This group put in many hours leading up to the inaugural 2010 festival. We had no idea if anyone would even show up. We could only afford a single guest instructor, so we had to limit classes to mountain dulcimer. My hope from the beginning was that this would turn into a mountain/hammered dulcimer festival, but that would have to wait. The bass singer in my cowboy band is the pastor of a small Baptist church in Albuquerque. He offered us his church facility for our first festival, and he put in a large effort himself making sure we were successful. Amazingly, the response was more than we had ever hoped for, and we had to close registration a month before the event due to facility size limitations. We all worked very hard to pull the festival off cleanly, and attendees' comments and exit surveys said we did it with aplomb. We not only had attendees from throughout New Mexico, but also Arizona, Colorado, Texas, Indiana, and Florida. We flew our guest instructor in, Aubrey Atwater, from Rhode Island. Aubrey was amazing, and an incredible inspiration. Jonathan Dowell and I also led workshops to round things out. Participants and teachers numbered about 50, with additional friends and family helping run the festival. Whereas we would not have been surprised if only a dozen additional people from Albuquerque showed up for the public concerts (such was our past experiences with dulcimer concerts here), we packed the facility Friday night at 150 concert goers, and Saturday night with almost as many. What a success! One of my greatest rewards from the first festival is that two ladies who attended concerts were encouraged to dust off their mountain dulcimers and begin playing again. They later even took one of my group classes. People falling in love with dulcimers and becoming successful players - that's our goal!
Where We're Going...
We wanted to make the festival an annual event. In February 2011 we founded the New Mexico Dulcimer Association. We had to draft bylaws and a budget, form a board, elect officers, find a larger facility with room to grow, write contracts, get instructors under contract, pursue non-profit status, plus all the legal, financial and insurance things necessary to make the Association legitimate.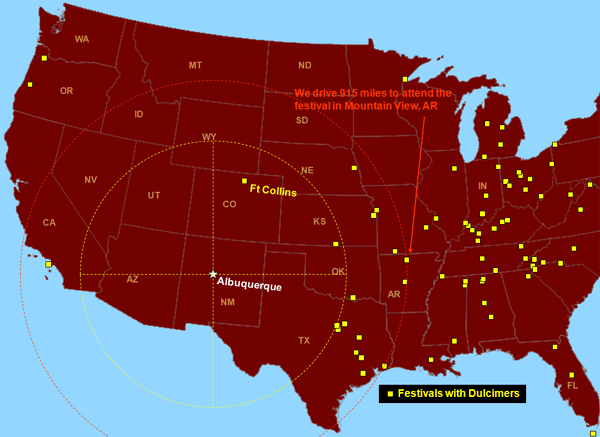 Our vision includes a lot of the west
From our years trying to find "nearby" festivals to attend, we knew Steve Eulberg's Colorado festival, and the no-longer Dewey Arizona festival, were the only events throughout many western states. The diagram gives a vivid depiction of how sparse festivals are in the west. We know, therefore, that the New Mexico Dulcimer Festival can be a resource well beyond the borders of our state, and that's our vision.

In addition to our annual festival, we hope in future years to provide other dulcimer learning experiences and public demonstrations to help build a New Mexico dulcimer tradition. Dana Hamilton (former mountain dulcimer and hammered dulcimer national champion) started the Glen Rose dulcimer festival in southeast Texas in 1982 when no one had heard of the instruments. For years, there's been a thriving community throughout eastern Texas with scads of festivals and players. We hope to do the same in New Mexico. We need your help to make the New Mexico Dulcimer Festival a thriving, inspiring, uplifting annual event. If you have questions, suggestions or comments, or want to help, please let us know. Let's make wonderful music memories together!

Irma Reeder
New Mexico Dulcimer Festival, Director



May, 2011