Welcome
Click here for a printable Festival Flyer and here for a printable color or printable grayscale Festival Handbill (two per page).



We're continuing to update the web site for our 2013 festival.
Please be patient as we continue this effort.

Go to our Facebook page to see some 2012 festival photos.


Recent updates: Last website update: May 21, 2013

- Update home page (and flyers), instructor page, add notes various places indicating some items are still 2012 examples
- Post the 2013 registration form
- Add the initial photo of the 2013 festival quilt project (in progress)
- Fill in the Venue page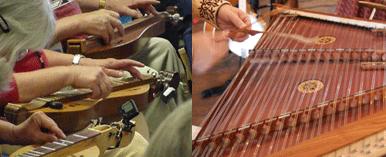 Scenes from our first festival (2010)
While there are lots of dulcimer festivals in the mid/eastern part of the country, there's only a handful of festivals in the entire western United States. What is a dulcimer anyways? And why a dulcimer festival in Albuquerque, New Mexico? In 2010 when we held our inaugural festival, we wondered if anyone would come. Response the last three years has exceeded all expectations! Not only have participants come from all over NM, but also AZ, CA, CO, FL, IL, IN, KS, NE, OK, TX and WI.

Thanks to all who made past festivals a success. With your help, the 2013 festival will be even better!


If you'd like to volunteer to help with this year's festival, please contact us.
Buy a raffle ticket for a chance to win a beautiful dulcimer quilt (festival fund raiser to help keep registration costs down).
2013 Guest Instructors
| | | |
| --- | --- | --- |
| Lois Hornbostel | (Bryson City, NC) | - Mountain Dulcimer |
| Brenda Hunter | (Bakersfield, CA) | - Hammered Dulcimer |
| Dan Landrum | (Signal Mountain, TN) | - Hammered Dulcimer |
| Aaron O'Rourke | (Tallahassee, FL) | - Mountain Dulcimer |
| Ehukai Teves | (Bryson City, NC) | - Mountain Dulcimer, Ukulele |
(Some may teach other things too)
Additional Instructors
| | | |
| --- | --- | --- |
| Tina Gugeler | (Erie, CO) | - Hammered Dulcimer |
| Irma Reeder | (Albuquerque, NM) | - Mountain Dulcimer, Celtic Harp |
(Others to be announced)
What is the New Mexico Dulcimer Festival?
Dulcimer Instruction
Over 30 Workshops
Concerts
Jamming
More
Albuquerque International Balloon Fiesta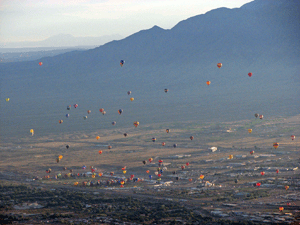 Hot air balloons over Albuquerque
We scheduled this year's dulcimer festival the weekend following the October 5-13, 2013, Balloon Fiesta so we might catch more of you RVers traveling through the southwest. We hope you'll stay in Albuquerque after the balloon spectacle to make some music with us. See lodging for camping options.

Click here for other Albuquerque attractions

Click here for an entertaining history of Albuquerque
Apple Mountain Music store in Albuquerque
Festival Sponsors
New Mexico Dulcimer Association
P.O. Box 11722
Albuquerque, NM 87192
(see Contact)
Apple Mountain Music
10301 Comanche NE
Albuquerque, NM 87111
505.237.2048