Welcome
Click here for a printable Festival Flyer and here for a printable color or printable grayscale Festival Handbill (two per page).


Recent updates: Last website update: August 25, 2015

- (Aug 24) Posted photograph of completed Fest Quilt
- (Aug 24) Populated Lodging page with 2015 host hotel information.
- (Aug 25) We are delighted that Charles Whitmer, beloved throughout the US autoharp community, has recently moved to NM. Bring your autoharps because we've added a class for beginners and beyond - see bio on the Instructors webpage, and his autoharp workshop added to the schedule.
- (Aug 28) Added banner describing participant instrument sales table.


New this year: Welcome to Granny's Attic! Do you have an instrument in good playing condition you'd like to sell? Bring it! We are offering a limited space to our participants who would like to display an instrument for sale. Please note: *instruments only *no books, cd's, etc. *one instrument per person *no dealers, please!

Provide instrument details, cost, your name and contact info on a card/flyer to be placed with your item. Important: this is not consignment sales. NMDF is not responsible for showing or selling your instrument. NMDF is not responsible for damage/theft of the item left for show. Questions? See the contact page.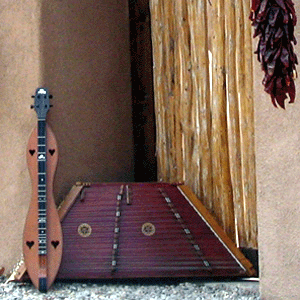 Mountain and Hammered Dulcimers
While there are lots of dulcimer festivals in the mid/eastern part of the country, there's only a handful of festivals in the entire western United States. What is a dulcimer anyways? And why a dulcimer festival in Albuquerque, New Mexico? In 2010 when we held our inaugural festival, we wondered if anyone would come. Response has exceeded all expectations! Not only have participants come from all over NM, but also AR, AZ, CA, CO, CT, FL, IL, IN, KS, NE, NH, NV, OK, TX, VT and WI. We've used local teaching staff from numerous places throughout NM and brought headliners in from AR, CA, CO, FL, MD, MN, MO, NC, RI, TN, TX, and WV.

Thanks to all who made past festivals a success. With your help, our next festival will be even better!


If you'd like to volunteer to help with this year's festival, please contact us.
See this year's beautiful festival quilt (fund raiser to help keep registration costs down).
2015 Headliners
| | | |
| --- | --- | --- |
| Bing Futch | (Orlando, FL) | - Mountain Dulcimer, Ukulele |
| Gary Gallier | (Springfield, MO) | - Mountain Dulcimer |
| David Moran | (Richardson, TX) | - Hammered Dulcimer |
| Rick Thum | (Eureka, MO) | - Hammered Dulcimer, Bodhran |
Additional Instructors
| | | |
| --- | --- | --- |
| Karen Alley | (Boulder, CO) | - Hammered Dulcimer |
| David Ellison | (Lovington, NM) | - Mountain Dulcimer |
| Donese Mayfield | (Albuquerque, NM) | - Celtic Harp |
| Andy Moss | (Albuquerque, NM) | - Irish Penny Whistle |
| Joe Morgan | (Irving, TX) | - Hammered Dulcimer, Guitar |
| Irma Reeder | (Albuquerque, NM) | - Mountain Dulcimer |
| Scott Reeder | (Albuquerque, NM) | - Bowed Psaltery |
| Michael VeSeart | (Albuquerque, NM) | - Ukulele |
| Charles Whitmer | (Santa Fe, NM) | - Autoharp |
What is the New Mexico Dulcimer Festival?
Dulcimer Instruction
Over 40 Workshops
Concerts
Jamming
More
Albuquerque International Balloon Fiesta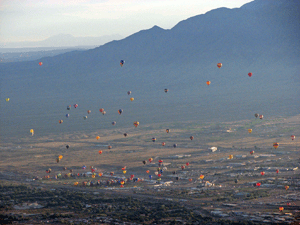 Hot air balloons over Albuquerque
We scheduled this year's dulcimer festival the weekend following the October 5-13, 2013, Balloon Fiesta so we might catch more of you RVers traveling through the southwest. We hope you'll stay in Albuquerque after the balloon spectacle to make some music with us.

With more than 700 beautiful hot air balloons participating, the Fiesta is the largest ballooning event on earth. Attracting more than 800,000 national and international visitors and more than 800 media representatives from across the globe, it is also the largest annual event in North America. It has been recognized as the world's most photographed event, and has been characterized as the most spectacular and colorful festival on the planet.

Click here for other Albuquerque attractions.

Click here for our own entertaining history of Albuquerque.