Welcome
Click here for a printable Festival Flyer and here for a printable color or printable grayscale Festival Handbill (two per page).


Recent updates: Last website update: March 08, 2014

- Continuing to fill in fest info, some data (as indicated) is from 2013 'til we get everything updated
- We're delighted to bring Dain Forsythe back in 2014 to teach our beginning bodhrán class!



Gobs of photos from the 2013 festival are posted on our facebook page.

We're making progress updating the website for 2014.

Be aware we've left some info up from 2013 so you can tell what the fest is like.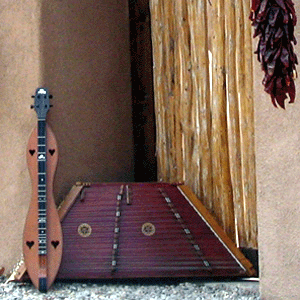 Mountain and Hammered Dulcimers
While there are lots of dulcimer festivals in the mid/eastern part of the country, there's only a handful of festivals in the entire western United States. What is a dulcimer anyways? And why a dulcimer festival in Albuquerque, New Mexico? In 2010 when we held our inaugural festival, we wondered if anyone would come. Response has exceeded all expectations! Not only have participants come from all over NM, but also AR, AZ, CA, CO, CT, FL, IL, IN, KS, NE, NH, OK, TX, VT and WI.

Thanks to all who made past festivals a success. With your help, the 2014 festival will be even better!


If you'd like to volunteer to help with this year's festival, please contact us.
Buy a raffle ticket for a chance to win a beautiful dulcimer quilt (festival fund raiser to help keep registration costs down).
2014 Headliners
| | | |
| --- | --- | --- |
| Karen Ashbrook | (Silver Spring, MD) | - Hammered Dulcimer |
| Linda Brockinton | (Alexander, AR) | - Mountain Dulcimer |
| Mark Nelson | (Jacksonville, OR) | - Mountain Dulcimer, Ukulele |
| Sam Rizzetta | (Inwood, WV) | - Mountain and Hammered Dulcimers |
Additional Instructors
Karen Alley
(Boulder, CO)
- Hammered Dulcimer
Dain Forsythe
(Albuquerque, NM)
- Bodhrán (Irish frame drum)
Donese Mayfield
(Albuquerque, NM)
- Celtic Harp
Irma Reeder
(Albuquerque, NM)
- Mountain Dulcimer
Scott Reeder
(Albuquerque, NM)
- Bowed Psaltery, other
Michael VeSeart
(Albuquerque, NM)
- Ukulele
...more to be determined
What is the New Mexico Dulcimer Festival?
Dulcimer Instruction
Over 30 Workshops
Concerts
Jamming
More
Albuquerque International Balloon Fiesta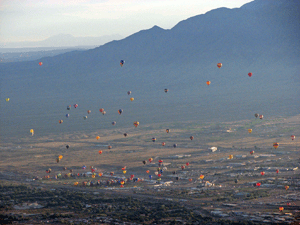 Hot air balloons over Albuquerque
We scheduled this year's dulcimer festival the weekend following the October 5-13, 2013, Balloon Fiesta so we might catch more of you RVers traveling through the southwest. We hope you'll stay in Albuquerque after the balloon spectacle to make some music with us.

With more than 700 beautiful hot air balloons participating, the Fiesta is the largest ballooning event on earth. Attracting more than 800,000 national and international visitors and more than 800 media representatives from across the globe, it is also the largest annual event in North America. It has been recognized as the world's most photographed event, and has been characterized as the most spectacular and colorful festival on the planet.

Click here for other Albuquerque attractions.

Click here for our own entertaining history of Albuquerque.